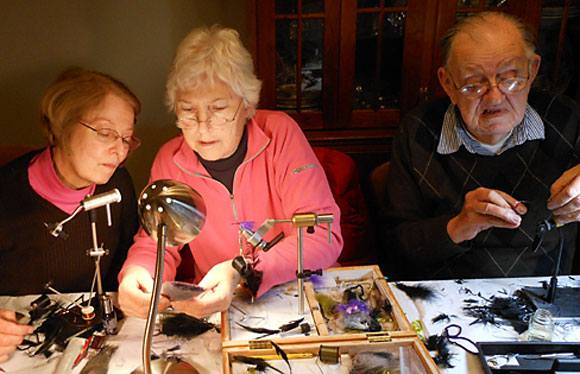 The Nutmeg TU fly tying group will meet on the second and fourth Tuesday of every month from 7-9 pm with our host Chuck McMath.  
The cost is $2 per session to cover the cost of materials.  
A link to RSVP for host's email & meetup location can be found on each fly tying date on the calendar at nutmegtrout.org.  You must RSVP to each tying meetup through the link for that night's event.
All are welcome, beginners are encouraged to attend.  
Vises, tools and materials are available if needed.
If you already have tied a few flies before, Fred Lord graciously hosts fly tying evenings at his home in Monroe from 7-9 pm every other Wednesday.
Focus is on learning new techniques and fly tying materials.
A $1 contribution per evening is suggested to help defray Fred's costs of materials.
Email fredelord@att.net  or call him (afternoons) at 203-261-8282  for more information.