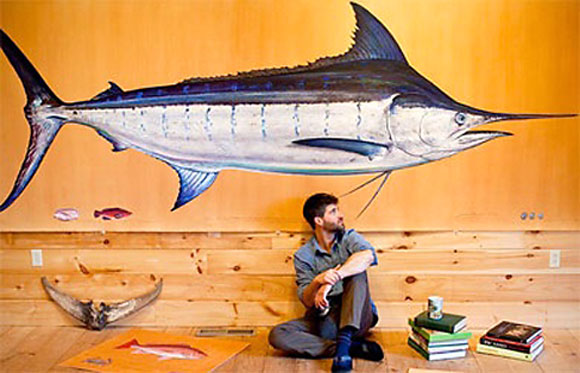 James Prosek will discuss his latest book, "Ocean Fishes" when Nutmeg TU Chapter 217 holds it annual holiday party Tuesday, Dec. 18, at 7 p.m.
The party will be held at a new location, Vazzy's 19th Hole at the Fairchild Wheeler Golf Course, 2390 Easton Tpke., Fairfield. Directions can be found at nutmegtu.org. Pizza and sandwich-type fare will be served. There will be a cash bar.
Prosek's appearance with his local TU chapter comes on the heels of his speaking at the Explorers Club in New York City Nov. 19. On Dec. 5, James Prosek was awarded the Gold Medal for Distinction in Natural History Art from the Academy of Natural Sciences in Philadelphia. Among previous recipients are Roger Tory Peterson, Ansel Adams, Peter Matthiessen and John McPhee.
The exhibit Ocean Fishes is on display at the Academy of Natural Sciences in Philadelphia through Jan. 21.
Ocean Fishes is James Prosek's personal tribute to marine beauty unlike any published before, based on travel, intense observation, work with scientists, and stories of those who know the fish most intimately: fishermen (both recreational and commercial).
It is also the author's quiet conservation statement, according to his website, troutsite.com. In showing the beauty and monumentality of these fish, Prosek is urging us to preserve what we have before it is lost.
"These paintings give the reader a privileged view of a fish fresh from the ocean when its changing colors first glint in the sun — a view ordinarily glimpsed only by the fishermen on the boat," according to the website.
This book is not intended as a scientific catalogue of ocean fishes. each painting reflects Prosek's individual experience with a single fish. The artist traveled the Atlantic from Nova Scotia to the Cape Verde Islands to see each species firsthand as it came out of the water before it lost its living colors. The original paintings are all life-size portraits (from a 14-inch porgy to a 12-foot, 8-inch blue marlin) and will be exhibited at several venues from Monaco to Philadelphia. Details from these original works are reproduced at full-size in the book to give a sense of scale.
Artist, writer, activist, and Yale graduate James Prosek made his authorial debut at 19 years of age with Trout: an Illustrated History (Alfred A. Knopf, 1996), which featured 70 of his watercolor paintings of the trout of North America. Prosek has shown his paintings with the Gerald Peters Gallery, New York and Santa Fe; Meredith Long Gallery, Houston; as well as with Wajahat/Ingrao, New York, the d.u.m.b.o. arts center, Brooklyn, Reynolds Gallery, Richmond, VA and the Aldrich Contemporary Art Museum in Ridgefield.
Prosek has written for The New York Times and National Geographic Magazine and won a Peabody Award in 2003 for his documentary about traveling through England in the footsteps of Izaak Walton, the 17th-century author of The Compleat Angler. He co-founded a conservation initiative called World Trout in 2004 with Yvon Chouinard, the owner of Patagonia clothing company, which raises money for coldwater habitat conservation through the sale of T-shirts featuring trout paintings. His book Eels: An Exploration, from New Zealand to the Sargasso, of the World's Most Amazing and Mysterious Fish, will be published by HarperCollins in September 2010. He is working on a book of paintings of Atlantic fishes for Rizzoli and a project about naming nature.
Prosek is a curatorial affiliate of the Peabody Museum of Natural History at Yale, and a member of the board of the Yale Institute for Biospheric Studies.
Nutmeg TU will draw winners of its annual raffle during the holiday party Tuesday, Dec. 18.
The meeting, starting at 7 p.m. at Vazzy's 19th Hole at the Fairchild Wheeler Golf Course, 2390 Easton Tpke., Fairfield, will feature guest speaker James Prosek.
Raffle tickets are available from Nutmeg TU members.
Prizes include:
• First prize: A Winston Boron IIIx 4-piece, 9-foot, 5-wt fly rod
• Second Prize: A $250 Orvis gift certificate
• Third prize: Choice of an Orvis Battenkill mid-arbor or Access reel
• Fourth Prize: A Cabelas deluxe gear bag
• Mystery prize: Always something special. You must be present at the holiday meeting to win this one.