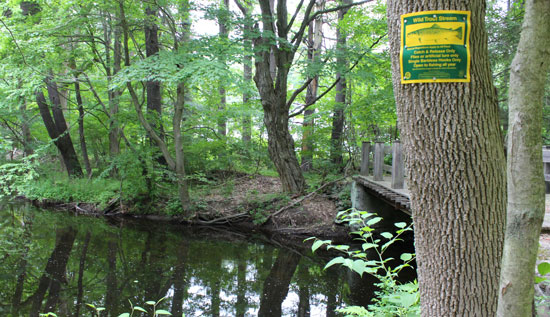 Field & Stream has listed the Mill River among "The 50 Best New Fishing Spots in America." Click here to read the article.
Part of the stream, running from Easton through Fairfield to the Long Island Sound, was recently reclassified by the Connecticut Department of Energy and Environmental Protection as a Wild Trout Management Area, extending the prior WTMA to the Merritt Parkway.  Single, free-swinging hooks are required.
Click here for more information on Connecticut's Trout Management Plan.
Revised fishing regulations, including a trout and salmon stamp, were approved Tuesday by the the state's Regulations Review Committee.
The regulations will become effective after they are posted on the secretary of the state's website.
The initial proposal called for separate trout and salmon stamps that could be purchased individually or in combination. That proposal was replaced by one mandating a single stamp for either trout or salmon, at a cost of $5; that was sent back for revision, resulting in the now-approved trout and salmon stamp which is $5, $3 for anglers 16 and 17 years old. Any anger who must obtain a license, regardless of if the license is free, must purchase the stamp.
A trout and salmon stamp is required for any angler 16 years of age and older fishing in a Trout Management Area (TMA), Wild Trout Management Area (WTMA), Trout Park, or Atlantic Salmon Broodstock Area; or keeping trout, Kokanee salmon or broodstock Atlantic salmon anywhere statewide.
The Mill River WTMA in Easton and Fairfield is extended downstream to the Merritt Parkway and the Mill River TMA is now catch-and-release year-round.
A small portion of the West Branch Farmington River in the Riverton area from the intersection of Hogback Road and Route 20 in Hartland downstream to the gas pipeline crossing approximately four-tenths of a mile downstream of the confluence with the Still River in Barkhamsted will now be closed to all fishing from April 1 to 6 a.m. on the second Saturday in April. This is intended to restore excitement to Opening Day.
Alexander Lake in Killingly is open to fishing year-round. Baldwins Pond in Meriden and Green Falls Reservoir in Voluntown are open to fishing from 6 a.m. Opening Day through the last day of February.
There is now a creel limit of six channel catfish and white catfish in aggregate per day, except in Beaver Park Lagoon, Birge Pond, Bunnells Pond, Center Springs Park Pond, Freshwater Pond, Keeney Park Pond, Lake Wintergreen, Lakewood Lake, Mirror Lake, Picketts Pond, Rowans Pond, Mohegan Park Pond, and Stanley Quarter Pond, where the creel limit is three catfish per day.
There is now a creel limit of five common carp per day, with no more than one fish greater than 30 inches in length, except in Trophy Carp Waters. Batterson Park Pond, Connecticut River (including the portions of tributaries open year-round), Squantz Pond, and West Thompson Reservoir are designated as Trophy Carp Waters with a one-carp-per-day creel limit and a 26-inch maximum length for common carp.
Tenkara fishing, a traditional Japanese method of fly-fishing without a reel, is now allowed in fly fishing areas.
The period when broodstock salmon gear restriction applies to all species in broodstock areas is now from Sept. 1 to March 31 (inclusive).
A proposal for a single trout and salmon stamp, costing $5, is part of a new fishing regulations package sent to the state's attorney general for review.
Once the attorney general completes review of the proposal, it will be submitted to the Legislative Regulation Review Committee for review.
The new proposal would establish a single trout and salmon stamp, which each year would cost $5. The original proposal called for a $5 trout stamp, a $10 salmon stamp, and a $12 combination stamp. After receiving online comments objecting to the fee, the Department of Energy and Environmental Protection opted to proceed with one $5 stamp.
All funds from the sale of the stamp, under state and federal law, will go toward hunting and fishing activities in Connecticut, including maintaining full production at three fish hatcheries in the state. DEEP officials held their earlier estimate of $300,000 in additional revenue, based on 60,000 trout and salmon anglers.
All anglers 16 years of age and older fishing for any species in Trout Management Areas, Wild Trout Management Areas and Trout Parks established in Section 26-112-46 of the Regulations of Connecticut State Agencies; all anglers 16 years of age and older fishing for any species in affected portions (the designated "Broodstock Areas") of the Shetucket River and Naugatuck River; and any anglers 16 years of age and older wishing to keep trout, kokanee or broodstock Atlantic salmon (where fishing for Atlantic salmon is allowed) they've caught anywhere throughout the state would be required to purchase a trout stamp.
The new regulations would also extend the Mill River Wild Trout Management Area in Easton and Fairfield from upstream of the first bridge crossing below Easton Reservoir (South Park Avenue) to the Merritt Parkway, where it meets the existing Trout Management Area that continues to Lake Mohegan. Signs indicate which parts of the river are in the WTMA and which in TMA.
Click here to read the full list of amendments to the regulations.
Click here to read the DEEP's explanatory statement.
Click here to read the notice of decision.