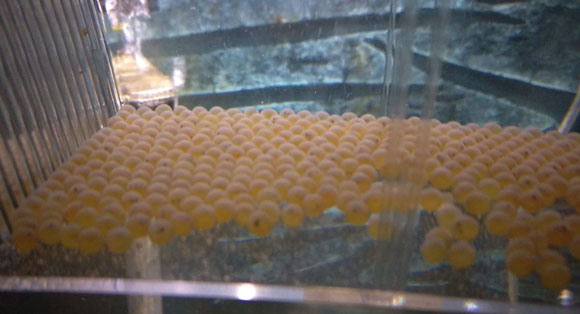 On Friday, Nov 17, the Trout in the Classroom programs statewide received their eggs from the DEEP.
TIC coordinators gather at a commuter parking lot, where the DEEP distributes the eggs to each chapter.
The Nutmeg Chapter has 15 schools participating in this valuable educational tool. Hundreds of students throughout Nutmeg's district are involved in raising Trout Eggs. Nutmeg TU covers the towns of Fairfield, Westport, Weston, Easton,  Redding, Trumbull, Monroe, Bridgeport, Stratford, Milford and Shelton.
Through hands-on activities, TIC uses an inter-disciplinary approach that adds to the the scientific concepts taught that directly impact the student's lives and environment. This is an important program that is training the environmental stewards and leaders for the future
"The excitement in each classroom when the eggs arrive is unbelievable, like they were getting pizza delivered," Nutmeg TU TIC Chairman Dave Edgeworth said.
Connecticut's Beardsley Zoo is looking for high school students who deeply love nature for the Conservation Discovery Corps.
Students who are accepted will have the opportunity to work side by side with field biologists, study the role of zoos in conservation, help educate the zoo's visitors and more. The program usually includes two or three day-long trips, visits to other zoos and aquariums, etc.
Click HERE to watch a video about the Conservation Discovery Corps.
A one-time processing fee of $65 is assessed for students who are accepted for the grant-supported program.
Applications should be filed as soon as possible. Click HERE for information and to download an application.
Weekend classes start in February; the opportunity for greatest involvement is during the summer.
Bridgeport Police have raised enough funds to give 300 10- and 11-year-old at-risk inner city Bridgeport youths a Shakespeare spinning fishing kit (rod, reel, line, bobber and bait). The idea is to give these children a healthy form of recreation to keep them away from trouble, especially when school is not in session.
On Saturday, April 13, from 9 a.m. to noon, Bridgeport Police, in collaboration with the Connecticut DEEP's CARE volunteers, Beardsley Zoo and Nutmeg TU, will hold a rapid fishing class at the Hanson Exploration Station at Connecticut's Beardsley Zoo. A minimum of nine volunteers are needed; no prior knowledge is required except for some very basic fishing know-how. Volunteers are asked to arrive at 8 a.m. to help assemble a few rods and to review the lessons (casting, a basic knot tying, fish ID, as well as a very quick overview of basic safety and what the Angler's Guide is) for the day.
Volunteers will assemble the remaining 280 fishing rod and reel kits after training on April 13.
On April 20, 15 to 20 Nutmeg volunteers are needed when the kids get to go fishing from 10 a.m. to 1:30 p.m. The group will fish near where the Pequonnock River meets Bunnell Pond at Beardsley Park. For safety, there must be one instructor for every three children.
Children will begin to arrive between 8 and 9 a.m., and will fish from 10 a.m. to noon. After trophies are awarded at noon, there will be a barbeque.
Children will receive a free pass to Connecticut's Beardsley Zoo.
Information can be obtained by emailing admin@nutmegtrout.org. Updates will be at nutmegtrout.org.