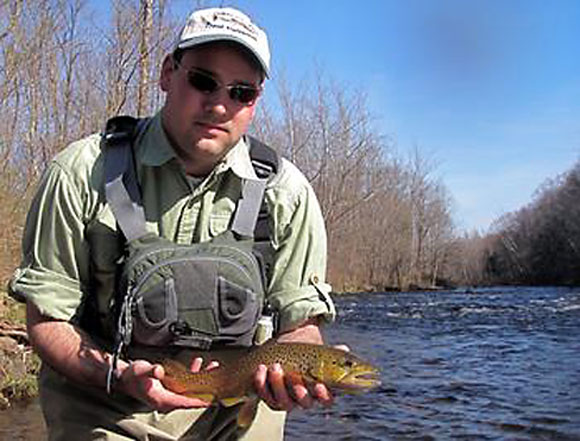 Guide, author and Trout Unlimited leader Jeff Yates will lead a talk on "Fly Fishing on Opening Day" at the next regular meeting of the Nutmeg Chapter of Trout Unlimited.
The meeting will be held at the Fayerweather Yacht Club, 51 Brewster St. in the Black Rock section of Bridgeport, at 7:30 p.m. Tuesday, April 17,2012,  just four days before the start of trout season in Connecticut.
Yates has been fishing the waters of Fairfield County for 20 years. A fourth generation Wilton resident, his intimate knowledge of the Norwalk, Mianus, Saugatuck and Mill rivers in lower Fairfield County provide productive outings on local waters. He has also discovered the secret streams throughout the region for targeting native brook trout, and can guide clients to a successful day of fishing for these native New England gems.
His book, "Fly Fishing Fairfield County: Secrets of Suburban Streams," contains 200 pages of photographs, detailed maps complete with local roads and parking directions, and descriptions of every trout stream in southwestern Connecticut.
Yates also leads trips to the Farmington River.
Summers spent fishing the streams of Vermont, hundreds of hours on the waters of Long Island Sound and years of angling for Atlantic Salmon in the Naugatuck River mean clients have a range of options to choose from.
A master guide and fly tyer, Yates said his goal is for clients to learn the access points and techniques that will make them successful anglers on their own future outings.
Guiding sessions are catch-and-release only and include lessons on insect entomology, stream flows and conditions, reading the water, improving casting skills and conservation and history.
President of the Mianus Chapter of Trout Unlimited, board member of Friends of Mianus River Park, life member of Trout Unlimited and the Housatonic Fly Fishers Association, Jeff is also a member of the American Museum of Fly Fishing and the Catskills Fly Fishing Center and Museum. When he's not guiding or fishing, Yates is leading river restoration projects or planning fishing and conservation events and clinics.
Information can be found at http://www.flyfishingct.com, or on Twitter and Facebook.
Tags:
Fishing
,
tips