Who are the Wooly Buggers?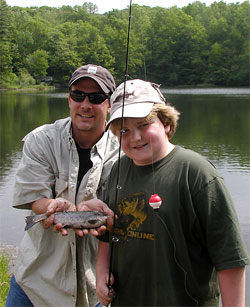 The Wooly Bugger program was started in 1999 by Bob Knoebel and is offered through the Westport/Weston YMCA, supported by the Nutmeg Chapter of Trout Unlimited.
Todd Stenz took over the program eight years ago when Bob moved to Idaho to live out his passion of fly fishing their magnificent waters.
The goal of our program remains quite simple – teach kids more about fishing and introduce them to others kids who are also interested in fishing.  We meet once a month throughout the spring & summer. Our outings focus on all of our wonderful local resources including rivers, ponds and Long Island Sound.
You do not have to be a member of the Y to join our club.  The cost of the club is $110 per student for the year. Money goes to the Y to help us with insurance and allowing us to have lifeguards on hand at our home waters of Lee's Pond.
If you are interested in learning more or signing up for the program, contact the Y directly at (203) 226-8981 or you can reach Todd Stenz on his cell at (203) 952-3756.
Join the club!
Here's your chance to learn how to catch fish and get together with other kids who share your interest. The Wooly Bugger Club focuses on activities related to fishing including fly-tying, field trips, casting instruction, guest speakers, and of course, fishing.
Who can join
The club is open to boys and girls, age 8 and up, and meets on a monthly basis. For more information contact Todd Stenz at (203) 952-3756. YMCA or TU membership not required.