Meeting at Port 5, 69 Brewster St, Bridgeport CT, 7 PM, and the pizza will be hot.
At the general meeting on Tuesday, October 20th, Captain Roger Gendron will be talking about his experiences and sharing knowledge on fishing  the western Long Island Sound.  Capt. Roger  has been actively "guiding" the waters of Western Long Island Sound since 1989.  As a local who has spent his entire life in this area, he started fly fishing the coast of Fairfield County Connecticut over 30 years ago, and was one of the first guides in the area to specialize in fly fishing and light tackle fishing in shallow salt water.  He will spend some time with us on Tuesday targeting the coastline of Fairfield County.
As well as teaching his clients fishing and fly casting technique over the last twenty five seasons, he has also been an instructor of advanced navigation and seamanship at the American Marine Training school formerly based in Stratford, CT.
He continues to offer piloting and navigation instruction to boat owners and mariners new to the area.  He speaks to various clubs and organizations on the topic of fly fishing and light tackle techniques during the off season.
Capt. Roger's focus is on his clients' enjoyment and safety, offering a fun day on the water whether fly fishing, light tackle fishing, or a little of each!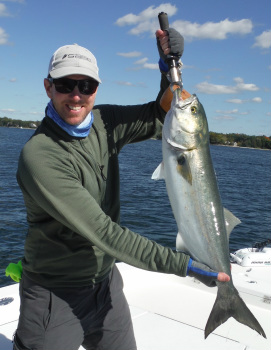 One of Capt. Roger's happy client!
Tags:
general meeting
,
Long Island Sound
,
salt water fishing