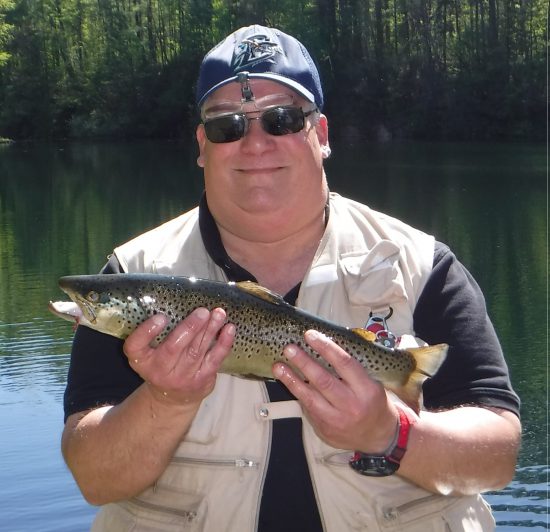 UPDATE: The Nutmeg TU trip to the Limestone Club is fully booked. Anyone interested may follow the steps outlined below to be put on a waiting list. The chapter will also look into the possibility of booking a second date.
ORIGINAL STORY: We are taking reservations for the 3rd annual Nutmeg Trout Unlimited trip to the Limestone Trout Club in Canaan on Thursday, May 11.
The private club is fly fishing only. This is primarily shore fishing, with a few boats available.
Please arrive by 9 a.m.  Fishing is permitted from 9 a.m. to 4 p.m.
There are three deep (70-plus feet) quarry ponds and three shallow ponds providing a variety of venues and conditions.
While most members practice catch and release, catch and kill is allowed for one fish 17 inches or smaller per person.
Information can be found at http://limestonetroutclub.com/Limestone%20Trout%20Club/Limestone%20Trout%20Club.html
Fees
The fee for TU members is $30 and includes lunch.
Non TU are welcome and the fee is $50, which includes a 1-year introductory membership to Trout Unlimited.
Payment is due by Monday May 8th.
Scott Simko will be available to guide, $50 for one hour for 2 people, $75 for two hours. Sign up for a time slot in advance by emailing Scott at sdshunter@hotmail.com. Please pay Scott directly for his guiding service when you arrive.
To reserve your spot, limited to 20 anglers:
Please RSVP to Rich Rosen rhrosen@aol.com. Include in your email the number of people and which TU chapter you belong to.
Checks should be made out to: Nutmeg Trout Unlimited, and mailed to:
Nutmeg Trout Unlimited
P.O. Box 1594
Fairfield, CT  06825
Lessons learned from last year
Bring some egg patterns, and bug spray for the ticks.
Directions to the Limestone Fishing Club:
Take Route 8 north to Winsted and turn left onto Route 44 west.
Drive through Norfolk and past the Blackberry River Inn and Freunds Farm Market in North Canaan.
After passing the marker for East Canaan turn right onto Casey Hill Road. (There is a sign on the right at the corner, set back from the road for O'Connor Sand & Gravel.)
Drive a short distance to a stop sign, where Casey Hill Rd. becomes Allyndale Rd.
Continue straight on Allyndale Road about 100 yards. The unmarked driveway is on the left, across from a driving range.
The clubhouse phone is 860-249-9996.
Tags:
Limestone Club
,
Nutmeg trip
,
private fishing club