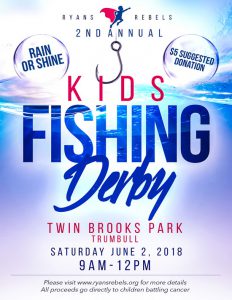 Ryan's Rebels needs volunteers to help at its second annual fishing derby Saturday, June 2, at Twin Brooks Park in Trumbull.
The tournament is catch and release, with entries measured for length, then let go. Volunteers are needed to help bait hooks, untangle line, measure and release fish, and offer families any other assistance needed. Those who wish to volunteer should click here to contact Ryan's Rebels.
Ryan Joyce was a great natured, fun-loving and feisty three and a half year old.  He loved playing with his parents and sister, zooming cars and trucks around, and kicking a ball in the backyard with his buddies. And he LOVED superheroes!
In the summer of 2014 he was diagnosed with Neuroblastoma, a pediatric cancer.  Sadly, after a courageous 18-month battle he passed away on December 3, 2015, one month shy of his fourth birthday.
Ryan's Rebels is committed to providing comfort and support to children and their families that are battling neuroblastoma and other pediatric cancers by:
​•   Financially assisting families seeking a natural approach by helping offset costs associated with non-conventional treatment options in conjunction with current medical treatments or if conventional treatments fail.
•   Providing healthy and nutritious meals to families whose children are in treatment
•   Hosting events and fundraisers that focus on the importance of nutrition and the outdoors.
•   ​Funding neuroblastoma research and support charities that align with our mission.
More information can be found at ryansrebels.org.
Tags:
fishing derby
,
Ryan Joyce
,
Ryan's Rebels
,
Trumbull
,
Twin Brooks Park