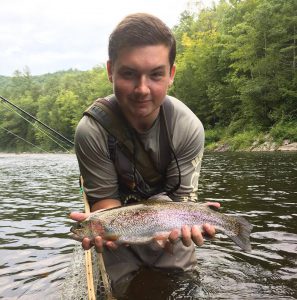 Tristan Wilgan of Tristan's Fishing Guide Service will share tips both spin and fly fishermen can use on local rivers at the next meeting of Nutmeg TU on Tuesday, Feb. 19, at Port 5, 69 Brewster St., Bridgeport.
The meeting will be preceded at 6 p.m. by a fly tying demonstration by Erick Peterson. (Click here for more.)
A sophomore at Western Connecticut State University, Tristan puts clients on trout on rivers around Fairfield County, as well as the Farmington and the Housatonic. He guides for Housatonic River Outfitters and also leads spin and fly fishing trips for smallmouth bass on the Housy.
Click here to watch an interview with Tristan on Yankee Fisherman on the HAN Network, which was hosted by Nutmeg TU members John Kovach. The video starts 1:22 in.
Nutmeg Chapter 217 of Trout Unlimited meets the third Tuesday of each month from September to May at Port 5, 69 Brewster St., Bridgeport, Conn. Meetings are open to all. Pizza is available and drinks may be purchased from Port 5. There is no charge for admission.
Tags:
guide
,
Nutmeg Trout Unlimited
,
Nutmeg TU
,
Tristan Wilgan