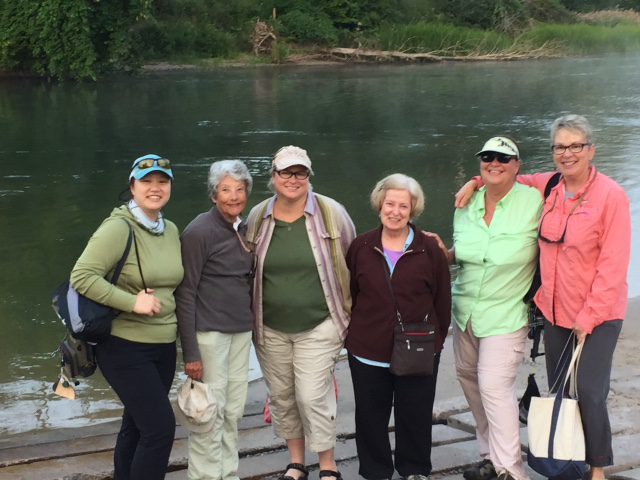 Michigan has several decent size rivers and many fish to target.  The first Saturday of August I joined the Fly Girls of MI for an outing on the Manistee River below the Tippy Dam, near Wellston, MI.  We met our guide by 7 AM and were in the boats as soon as they were launched, 2 women anglers plus a guide per boat for a group of 3 boats.  The Manistee is wide with healthy flows in this section of the river below the Tippy Dam, the last dam before Lake Michigan.  Any fish coming into the Manistee in the Fall for spawning are held in this section as the dam prevents further travel up river.  Sightings of eagles were frequent as the day went on, as well, as otters, and fawn early in the day.  We were targeting small mouth bass primarily, although there are several species of fish in the Manistee over the course of the year.  Like many places, MI has had a very warm summer with several weeks of 85 to 90 plus days.  None of us were too sure what type of fishing activity we would see.  Our boat had one long distance release off the bank at an eddy pool and that was basically it for the day.  We could see the fish following our bait fish replica repeatedly and yet, they simply would not bite. And if you teased them into following long enough, you could see the fish put the brakes on as soon as they reached a sunny spot and quickly return to their cover in the shade.  The water was clear enough that sight fishing was almost better than fly fishing!  The other 2 boats reported better fishing activity and yet, I did not see any pictures of their catches or hear what they caught.  By about 11 AM flotillas of canoes, kayaks, and tubes began overtaking us as many folks were out enjoying the day on the water.  The weather was perfect with an occasional breeze in an almost cloudless sky and the day warmed up to 85 or so.  So the fishing was great and lots of fun, even though the catching will be better next time!
If you have a fishing adventure to share, let me know and send me a write-up.  Pictures are welcomed also!
See you in September!
Cheryl Groesbeck, email to cherylgroesbeck@gmail.com .
Tags:
fishing reports
,
women