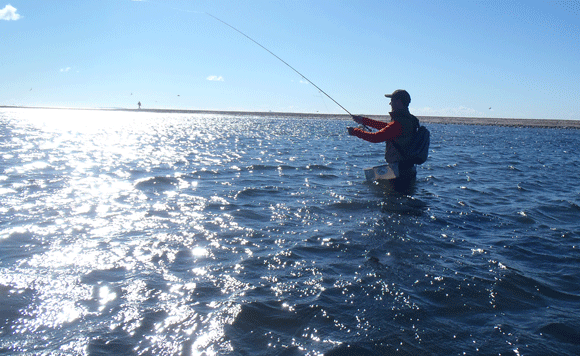 Start your Memorial Day weekend, and the summer, casting in the saltwater with Nutmeg TU.
Ed Grzeda will lead a fishing outing in the Long Island Sound Saturday, May 26, open to both fly anglers and conventional fishermen. There is no charge and TU membership is not required.
The group will meet at 11 a.m. in the parking lot at Milford Audubon, 1 Milford Point Road, Milford. Click here to RSVP.
We will be fishing the outgoing tide; high tide is 9:45 a.m. Saturday.
The lower Housy has been fishing very well with both quantity and the occasional quality striper over 26 inches, Ed reports.
For fly fishing, Ed recommends an 8- to 10-weight rod with an intermediate and/or sink-tip line. Clousers and Deceiver-type patterns in almost any color — Chartruese/white, Blue/white, tan or olive/white will work on 12-20# tippet.
The water remains very cold, so waders are necessary. Also have sunglasses, a hat and sunscreen.
Anyone who arrives late, has trouble finding the group or needs information can contact Ed at (224) 234-3381.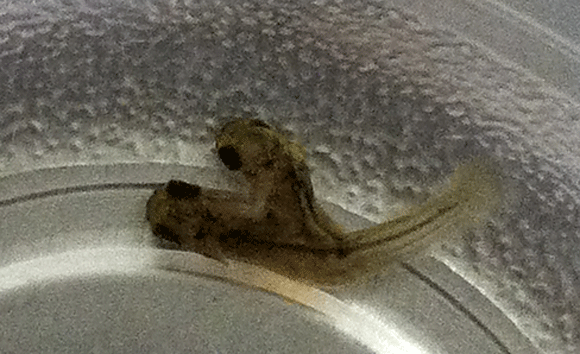 The Trout in the Classroom program at Meadowside School in Milford, sponsored by Nutmeg TU, got a surprise when their eggs recently hatched.
Fifth grade teacher Jason Cicero sent this photo of conjoined fry to Gian-Andrea Morresi, TIC coordinator for the Nutmeg Chapter of Trout Unlimited.
"The fish are doing great but when I checked them yesterday I noticed something amazing and wanted to share it with you. We have conjoined twins in our nursery," Cicero wrote. "I hope the picture comes across so you can see this, it's amazing! "
"That is different," DEEP biologist Neal Hagstrom wrote. "Usually you have them belly to belly and often one embryo will overgrow the second before they are this developed.  Sometimes all that is left is an extra fin. Looks like completely separate digestive, neural and circulatory system. Neat shot."
Trout in the Classroom is TU's cornerstone environmental education program. Students learn about the importance of clean, cold water as they raise trout from eggs, ultimately releasing them into the wild.