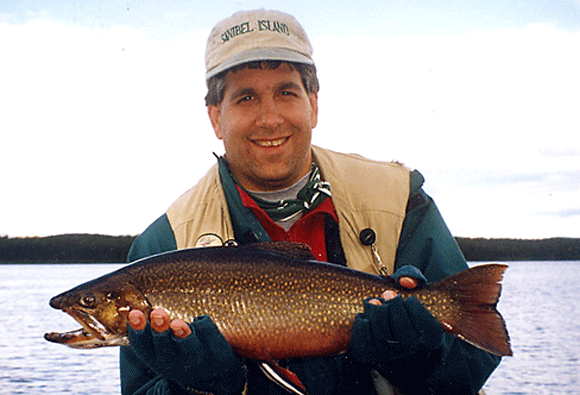 Maine guide and author Lou Zambello will travel to Connecticut Tuesday, March 18, to discuss "Tactics to Successfully Fly Fish each of the Northern New England Seasons" at the next meeting of the Nutmeg Chapter of Trout Unlimited.
The meeting will be held at 7 p.m. at Port 5 Naval Veterans, 69 Brewster St., in the Black Rock section of Bridgeport. Like all Nutmeg TU meetings, Zambello's talk is open to the public.
Zambello recently published a book, "Flyfishing Northern New England's Seasons," available at amazon.com.
Zambello has fly fished northern New England for more than 30 years and has been a registered Maine Guide for over 10 years, guiding primarily in the Rangeley area.
He worked at LL Bean for more than 14 years and got the opportunity to fish with and learn from a number of fly fishing legends, such as Dave Whitlock and Dick Talleur.
He has traveled throughout the United States and the world to pursue his passion including Labrador, Newfoundland, Russia, the Bahamas, the Southeast U.S., Southwest U.S., Montana, Idaho, Colorado, Wyoming, Utah and other destinations.
Lou writes a monthly column for the Maine Sportsman magazine and will soon appear in other fly fishing magazines.
He has several other book projects in the works including a how-to catch trophy brook trout book.
Lou has been fortunate enough to catch a number of salmonids exceeding 8 pounds, including brook trout, Atlantic salmon, brown trout, steelhead and rainbow trout.
Lou's wife, Lindsey, and their three children all fly fish.
More information about Lou Zambello can be found at http://www.mainelyflyfishing.com.
Information about Nutmeg TU Chapter 217 can be found at nutmegtrout.org.
Tags:
" regular meeting
,
general meeting
,
guide
,
Lou Zambello
,
Maine
,
meeting
,
northern New England
,
Port 5
,
seasons