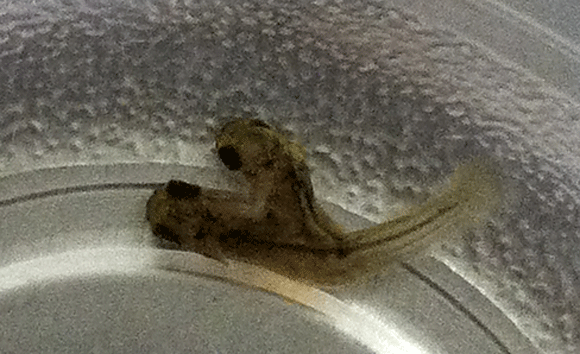 The Trout in the Classroom program at Meadowside School in Milford, sponsored by Nutmeg TU, got a surprise when their eggs recently hatched.
Fifth grade teacher Jason Cicero sent this photo of conjoined fry to Gian-Andrea Morresi, TIC coordinator for the Nutmeg Chapter of Trout Unlimited.
"The fish are doing great but when I checked them yesterday I noticed something amazing and wanted to share it with you. We have conjoined twins in our nursery," Cicero wrote. "I hope the picture comes across so you can see this, it's amazing! "
"That is different," DEEP biologist Neal Hagstrom wrote. "Usually you have them belly to belly and often one embryo will overgrow the second before they are this developed.  Sometimes all that is left is an extra fin. Looks like completely separate digestive, neural and circulatory system. Neat shot."
Trout in the Classroom is TU's cornerstone environmental education program. Students learn about the importance of clean, cold water as they raise trout from eggs, ultimately releasing them into the wild.
Tags:
conjoined trout
,
DEEP
,
Meadowside School
,
Milford
,
TIC
,
Trout in the Classroom