On Tuesday, March 15, 2016, Nutmeg TU will hold its monthly meeting at 7PM.  We have a new location at Marissa's Ristorante, 6540 Main St, Trumbull, CT, just South of where I-25 crosses Route 111.  Tony Ritter is going to share some history on the Upper Delaware River that contributed to the creation of the great tailwater fishery.  And he will tell us some of his tips, and techniques to improve our success for fishing this water.  Along the way we will learn some of the best locations and suggested flies that work well.
Tony has operated a driftboat fishing guide service on the Upper Delaware River and West Branch Delaware for twenty-two years. He specializes in wild trout on one of the best tailwater rivers in the United States located in the Catskill / Pocono Regions of New York and Pennsylvania.  He is licensed by the National Park Service, the NYS DEC and the Pennsylvania FBC.  Between his days on the river teaching new clients casting, and making their day one to remember, Tony is also an elected town councilman for the Town of Tusten in Narrowsburg, NY and has chaired the Upper Delaware Council's Water Use Resource Management Committee since 2011.
The Upper Delaware River is one of the few rivers in the eastern United States that supports a wild trout fishery with both rainbows and browns. It also has an American Shad run in the spring since there are no dams on this river and is free flowing to the ocean for 270 miles. Besides wild trout and shad, Field and Stream magazine has stated that this river also has one of the five best smallmouth rivers in the United States as well as holding an ample supply of walleye.
The Delaware River is located in a beautiful valley located between the Catskills and Poconos and is two hours northwest of New York City.  Deer, turkey, bald eagles, bear, mink, red tail hawks, beavers, and osprey are not uncommon sights while fishing on a river charter throughout the season which runs from April through November.  There is no industry in the river valley thus the water is clean and well oxygenated, resulting in varied hatches of caddis, mayflies and stoneflies for trout to feed on, as well as many more insects and minnows.
His fly patterns, articles, blog and real time river data can be found at:
www.gonefishingguideservice.com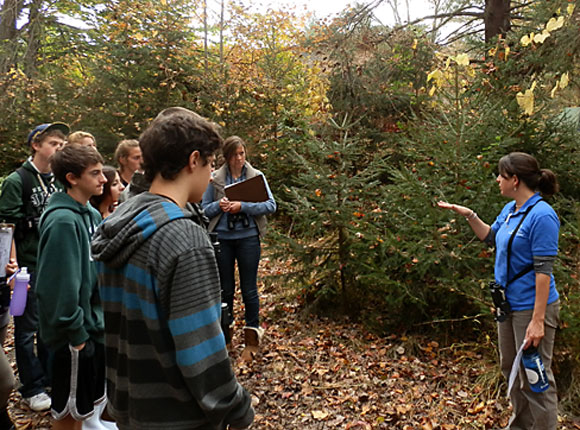 The Connecticut Audubon Society's Larsen Sanctuary in Fairfield is hiring teacher-naturalists for its new flagship education program, "Science In Nature."
The program provides K-12 students outdoor, hands-on, inquiry-based education experiences which are fully integrated into their curriculum. The goal is to help create a deeper, long-term commitment to conservation, as well as contribute to the health and academic success of our state's children.
The new program explores four habitat types: woodland, freshwater marsh, meadow and pond. During each visit students investigate the habitat types in the context of weather/climate, geology and adaptations.
"Teachers whose students have participated in the program have loved what CAS offers." said Nelson North, Connecticut Audubon Society's director of Fairfield operations.
Teacher-naturalists are responsible for teaching outdoor and classroom natural science programs to a variety of audiences, from early learners to adults. Applicants with a minimum of one year teaching experience with proven skills teaching in formal and/or informal settings may apply.
To learn more or for further details about the program, visit the job Opportunities page at ctaudubon.org, or contact Education Director Michelle Eckman by email  or at 203 259-6305, ext. 107.
A meeting will be held in Fairfield during early January to discuss the cleanup of the Exide Battery property, which will affect the Mill River Improvement Project.
Ron Merly told the Nutmeg TU Board of Directors Tuesday, Dec. 6, that the meeting is tentatively scheduled on or around Jan. 10, 2013. Updates will be posted at nutmegtrout.org.
Merly and Russ Ogden have met with Fairfield conservation officials, and Merly called the plans proposed by Exide "very vague."
Cleanup plans have been discussed for years, but work has not begun. One current proposal, Merly said, would begin work during the annual Herring migration up the Mill River.
Nutmeg TU will follow the process and encourages members to attend the January meeting. Addresses for local, state and federal officials will also be posted at nutmegtrout.org so members can easily contact elected leaders and express their views on the remediation.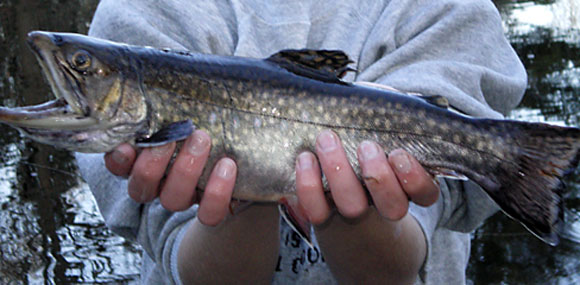 Editor's Note: At its Dec. 6 meeting, the Nutmeg TU Board of Directors voted to contribute $2,500 of the $5,000 needed to start a fund to help the Sea-Run Brook Trout Coalition bring the fish back to Connecticut.
By Ron Merly
Before brown and rainbow trout were introduced into American waters in the 1860's and 70's, the only trout that were naturally found in Connecticut waters were brook trout (actually a char). Brook trout inhabited most of the streams in our state as well as throughout the eastern section of the country.  Sea-run, or salter brook trout were brookies that were caught in the salt estuaries of streams emptying into the saltwater throughout New England and on Long Island. The fish were plentiful and were prized by anglers for their size as well as being delicious table fare. It was common to catch salter brook trout between 6 and 10 pounds and not just one.
As the rivers were dammed and polluted from the Industrial Revolution salter brook trout, like their cousin the Atlantic salmon, were unable to reach their traditional spawning grounds and as a result, populations all but disappeared except for a few little known streams scattered throughout New England.
The Cape has always been a place where these fish were notoriously sought and caught so in the mid 1970's, restoration work began on remnant populations in Red Brook (See Theodore  Lyman Preserve Red Brook Mass) and afterward, several other streams on Cape Cod. The restoration work proved to be a huge success and continues on streams throughout the Cape. Massachusetts government is now behind the restoration and works with T.U. and the Sea-Run Brook Trout Coalition (SRBTC) on these efforts.
Because of the success of these  restorative projects on the Cape, T.U and the SRBTC are interested in the restoration of salters in other New England  states. Not every stream is a candidate. The criteria for restoration is pretty simple although the research to discover this simple criteria took years of study. In order for a stream to be a candidate for restoration, it must have a wild population of brook trout in its waters. Stocked brook trout do not survive, only wild fish seem to be able to adapt to the salt. The stream must have no barriers so that the fish can freely travel back and forth from the salt to the river making dam removal neccesary. If the stream to be restored is currently being stocked with any trout, the stocking must stop. Brook trout will not climb steep fish ladders so natural passage is preferred.
Finally, there is a general misconception that trout wind up downstream in the salt because they get washed downstream during heavy flows. Trout do not get washed downstream, they know where to hold during heavy flows. The reason that fish move downstream and into a salt estuary is due to food competition. As a stream becomes more and more populated with fish, there becomes competition for the food source. When the dominant fish chase other fish out of their feeding holds, it causes those fish forced out to seek out a place to eat which is how they eventually wind up in the saltwater. Ironically, those fish that were displaced due to food competition are the ones that will grow large because of the rich salt  environment.
T.U. National and the SRBTC have been working with other states to begin restoration in other areas. The first steps toward restoration in Connecticut were recently taken. DEEP biologists, Michael Hopper President of SRBTC, and myself sat down at DEEP headquarters in Old Lyme to establish and begin the restoration of these fish to Connecticut waters. From that meeting, we decided to begin with Anguilla Brook in North Stonington as it meets the general criteria  for restoration. The plan is to begin to electronically monitor the brookies starting in the spring.
The state is unable to fund this project currently so we will need to raise funds through grant applications SRBTC and T.U.  If you have interest in this project please contact Ron Merly.