You can look sharp on the stream and support the conservation efforts of Connecticut Trout Unlimited by purchasing merchandise from RepYourWater.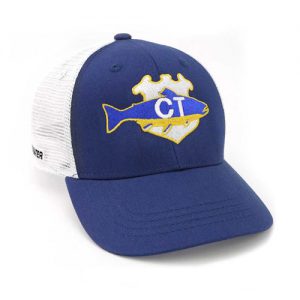 RepYourWater provides creative and unique designs on high-quality apparel and merchandise while making a difference for wildlife habitat around the country. By teaming up with Colorado Trout Unlimited early in its existence, RepYourWater has been able to contribute to the conservation of Colorado fisheries and set in motion what the company is today.
Rep. Your Water has now joined with conservation organizations across the United States, including the Connecticut Council of TU, as 1% partners. Rep Your Water distributes 10% of sales among those 1% partners, based on sales of designs to the Trout Unlimited chapters of Connecticut, Canada, Wyoming, Pennsylvania, the Southeastern Conservation Project and New Mexico; Backcountry Hunters and Anglers Chapters in Utah, Alaska and Montana; the Wild Steelhead Coalition and The Bonefish and Tarpon Trust to provide financial support for the protection of the natural world.
RepYourWater also donates 50% of the proceeds from the Bristol Bay, Native Fish Society and the WILD steelhead hats to the Renewable Resources Fund, Native Fish Society and Wild Steelhead Coalition respectively.  
The message to Connecticut anglers is, the more Connecticut merchandise you buy from Rep Your Water, the more money comes back for local conservation efforts.
For more information on Rep Your Water's relationship with each non-profit, choose from the drop-down menu on its home page, repyourwater.com.
The Nutmeg and Mianus chapters of Trout Unlimited will gather to celebrate Arbor Day by planting trees along the Mill River in Fairfield Saturday, April 29, from 9 a.m. to noon.
The project is the latest step in Trout Unlimited's ongoing rehabilitation of the Mill River, a stream that is home to native brook trout and wild brown trout. Invasive flora has been removed, and native species are being planted along the banks.
Donuts and coffee will be provided.  Please bring a shovel.

Friends, kids and anyone who wants to help may attend.
Register below in "Leave A Reply" by sending us your Name & Email Address and stating April 29 Planting Volunteer in the Comments Box.  You can also register at mianustu.org. 
All Volunteers are asked to register to help with food counts and planning.  After registering watch your emails for any additional information and where to meet.

Feel free to take a fly rod to fish the Mill with us after planting is done. 
We look forward to seeing you there and come back to this site often for more of our fun events.

On Tuesday, March 15, 2016, Nutmeg TU will hold its monthly meeting at 7PM.  We have a new location at Marissa's Ristorante, 6540 Main St, Trumbull, CT, just South of where I-25 crosses Route 111.  Tony Ritter is going to share some history on the Upper Delaware River that contributed to the creation of the great tailwater fishery.  And he will tell us some of his tips, and techniques to improve our success for fishing this water.  Along the way we will learn some of the best locations and suggested flies that work well.
Tony has operated a driftboat fishing guide service on the Upper Delaware River and West Branch Delaware for twenty-two years. He specializes in wild trout on one of the best tailwater rivers in the United States located in the Catskill / Pocono Regions of New York and Pennsylvania.  He is licensed by the National Park Service, the NYS DEC and the Pennsylvania FBC.  Between his days on the river teaching new clients casting, and making their day one to remember, Tony is also an elected town councilman for the Town of Tusten in Narrowsburg, NY and has chaired the Upper Delaware Council's Water Use Resource Management Committee since 2011.
The Upper Delaware River is one of the few rivers in the eastern United States that supports a wild trout fishery with both rainbows and browns. It also has an American Shad run in the spring since there are no dams on this river and is free flowing to the ocean for 270 miles. Besides wild trout and shad, Field and Stream magazine has stated that this river also has one of the five best smallmouth rivers in the United States as well as holding an ample supply of walleye.
The Delaware River is located in a beautiful valley located between the Catskills and Poconos and is two hours northwest of New York City.  Deer, turkey, bald eagles, bear, mink, red tail hawks, beavers, and osprey are not uncommon sights while fishing on a river charter throughout the season which runs from April through November.  There is no industry in the river valley thus the water is clean and well oxygenated, resulting in varied hatches of caddis, mayflies and stoneflies for trout to feed on, as well as many more insects and minnows.
His fly patterns, articles, blog and real time river data can be found at:
www.gonefishingguideservice.com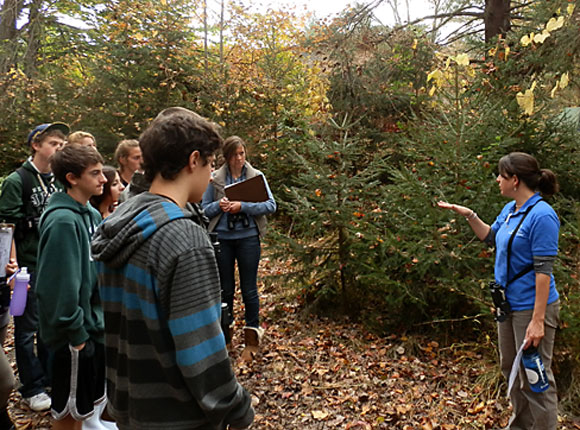 The Connecticut Audubon Society's Larsen Sanctuary in Fairfield is hiring teacher-naturalists for its new flagship education program, "Science In Nature."
The program provides K-12 students outdoor, hands-on, inquiry-based education experiences which are fully integrated into their curriculum. The goal is to help create a deeper, long-term commitment to conservation, as well as contribute to the health and academic success of our state's children.
The new program explores four habitat types: woodland, freshwater marsh, meadow and pond. During each visit students investigate the habitat types in the context of weather/climate, geology and adaptations.
"Teachers whose students have participated in the program have loved what CAS offers." said Nelson North, Connecticut Audubon Society's director of Fairfield operations.
Teacher-naturalists are responsible for teaching outdoor and classroom natural science programs to a variety of audiences, from early learners to adults. Applicants with a minimum of one year teaching experience with proven skills teaching in formal and/or informal settings may apply.
To learn more or for further details about the program, visit the job Opportunities page at ctaudubon.org, or contact Education Director Michelle Eckman by email  or at 203 259-6305, ext. 107.