A meeting will be held in Fairfield during early January to discuss the cleanup of the Exide Battery property, which will affect the Mill River Improvement Project.
Ron Merly told the Nutmeg TU Board of Directors Tuesday, Dec. 6, that the meeting is tentatively scheduled on or around Jan. 10, 2013. Updates will be posted at nutmegtrout.org.
Merly and Russ Ogden have met with Fairfield conservation officials, and Merly called the plans proposed by Exide "very vague."
Cleanup plans have been discussed for years, but work has not begun. One current proposal, Merly said, would begin work during the annual Herring migration up the Mill River.
Nutmeg TU will follow the process and encourages members to attend the January meeting. Addresses for local, state and federal officials will also be posted at nutmegtrout.org so members can easily contact elected leaders and express their views on the remediation.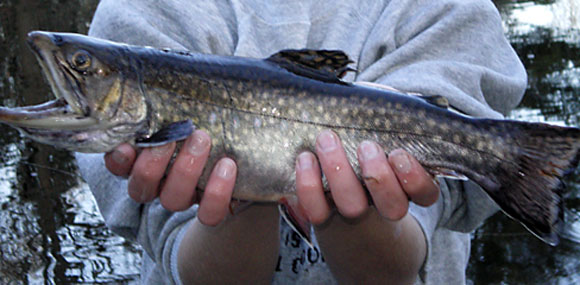 Editor's Note: At its Dec. 6 meeting, the Nutmeg TU Board of Directors voted to contribute $2,500 of the $5,000 needed to start a fund to help the Sea-Run Brook Trout Coalition bring the fish back to Connecticut.
By Ron Merly
Before brown and rainbow trout were introduced into American waters in the 1860's and 70's, the only trout that were naturally found in Connecticut waters were brook trout (actually a char). Brook trout inhabited most of the streams in our state as well as throughout the eastern section of the country.  Sea-run, or salter brook trout were brookies that were caught in the salt estuaries of streams emptying into the saltwater throughout New England and on Long Island. The fish were plentiful and were prized by anglers for their size as well as being delicious table fare. It was common to catch salter brook trout between 6 and 10 pounds and not just one.
As the rivers were dammed and polluted from the Industrial Revolution salter brook trout, like their cousin the Atlantic salmon, were unable to reach their traditional spawning grounds and as a result, populations all but disappeared except for a few little known streams scattered throughout New England.
The Cape has always been a place where these fish were notoriously sought and caught so in the mid 1970's, restoration work began on remnant populations in Red Brook (See Theodore  Lyman Preserve Red Brook Mass) and afterward, several other streams on Cape Cod. The restoration work proved to be a huge success and continues on streams throughout the Cape. Massachusetts government is now behind the restoration and works with T.U. and the Sea-Run Brook Trout Coalition (SRBTC) on these efforts.
Because of the success of these  restorative projects on the Cape, T.U and the SRBTC are interested in the restoration of salters in other New England  states. Not every stream is a candidate. The criteria for restoration is pretty simple although the research to discover this simple criteria took years of study. In order for a stream to be a candidate for restoration, it must have a wild population of brook trout in its waters. Stocked brook trout do not survive, only wild fish seem to be able to adapt to the salt. The stream must have no barriers so that the fish can freely travel back and forth from the salt to the river making dam removal neccesary. If the stream to be restored is currently being stocked with any trout, the stocking must stop. Brook trout will not climb steep fish ladders so natural passage is preferred.
Finally, there is a general misconception that trout wind up downstream in the salt because they get washed downstream during heavy flows. Trout do not get washed downstream, they know where to hold during heavy flows. The reason that fish move downstream and into a salt estuary is due to food competition. As a stream becomes more and more populated with fish, there becomes competition for the food source. When the dominant fish chase other fish out of their feeding holds, it causes those fish forced out to seek out a place to eat which is how they eventually wind up in the saltwater. Ironically, those fish that were displaced due to food competition are the ones that will grow large because of the rich salt  environment.
T.U. National and the SRBTC have been working with other states to begin restoration in other areas. The first steps toward restoration in Connecticut were recently taken. DEEP biologists, Michael Hopper President of SRBTC, and myself sat down at DEEP headquarters in Old Lyme to establish and begin the restoration of these fish to Connecticut waters. From that meeting, we decided to begin with Anguilla Brook in North Stonington as it meets the general criteria  for restoration. The plan is to begin to electronically monitor the brookies starting in the spring.
The state is unable to fund this project currently so we will need to raise funds through grant applications SRBTC and T.U.  If you have interest in this project please contact Ron Merly.
Great day down on the Mill River Saturday, Oct. 6. We started at 8:30 a.m., finished up around 12:30 p.m. and had perfect weather for planting.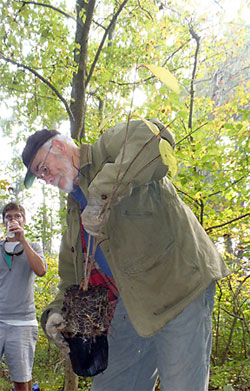 Roughly 15 folks attended, evenly split between volunteers from TU and ALT. From TU, we had myself, Ron Merly, Bob Campbell, Alan Boyd, Rich Rosen, David Winkelmann, Nick Campofranco and John Kovach. From ALT we had Bob Fatherly, Tom Johnson, Wendy Macbeth, Donna Naser, and Stuart Richardson. (My apologies if I neglected to mention anyone.)
Dave Anderson from New England Wetland Plants was also there. He supplied all of the plants and volunteered his time to help with the planting.
We started the day by splitting into two groups, one for invasive removal and one for planting.  As the day progressed it became all hands on deck for planting. We planted 450 trees, shrubs and plants!
Notable species include (common names): Tulip poplar, sycamore, witch hazel, hornbeam, red-osier dogwood, gray dogwood, silky dogwood, arrowwood viburnum, swamp rose, buttonbush and several species of willow.
Additionally, we were able to preserve several pre-existing American beech, sassafras, black birch and spice bush saplings that would have likely been overcome by all of the invasives.
The area looks great, albeit a little barren, but I fully expect it will start to fill out come spring as many of the species begin to take root and expand their profile. Visitors to the area will note a large amount of deer fencing erected around the perimeter of the main
planting area. This is designed to limit both human and wildlife traffic and hopefully give the plantings an optimal chance for survival.
Going forward we will need to monitor the progress of the plantings and continue to work on the invasive removal. One obvious thing was that the wild grape, multi-flora rose and Japanese barberry continue to remain heavily rooted in the area and several plants had bounced back from our May removal efforts. We will probably need to get a small group out there again in the spring to keep it clean.
Feedback on the project and the results are appreciated. I hope this is the first of many steps in our Mill River Improvement Project.
Many thanks to all those who participated and I look forward to working with everyone again on the next event.
Orvis and Trout Unlimited have announced the first two streams that will be improved to allow better passage for wild and native trout as part of the new Orvis / Trout Unlimited "1,000 Miles Campaign."
Murphy Brook in Vermont and Tabor Brook in New Hampshire—both tributaries of the Connecticut River system—will be the first beneficiaries of funding raised by Orvis and its customers, and TU will oversee construction and reconnection projects on both streams. Migration-halting culverts will be replaced, and dozens of new miles of habitat will be available to brook trout and brown trout that need intact coldwater habitat to spawn and to escape the worst of summer's heat.
Thanks in part to an Orvis grant and matching funds from the company's customers, the two entities hope to open up 1,000 miles of new coldwater habitat to trout and salmon all over America. Many streams with spawning and rearing potential—and fishing potential—are now blocked by faulty culverts and other man-made barriers. The campaign's goals include not only increasing overall trout habitat from coast to coast, but improving fishing opportunity resulting from stream improvements.
"Opening up 1,000 miles of new habitat for trout and salmon over the next 10 years is an ambitious goal, but we think we can do it," said Elizabeth Maclin, TU's vice president for eastern conservation. "We're lucky to have dedicated partners like the people at Orvis—they've always been very supportive of the work we do, and their commitment to this project means the world to us."
By opening up habitat in Murphy Brook and Tabor Brook to migrating fish, anglers will likely see improved fish numbers in downstream stretches of water, and enjoy more fishable water in the coming years. Two culverts will be replaced on Tabor Brook this fall, and work to remove a culvert that blocks upstream migration on Murphy Brook will begin later in the year.
The 1,000 Miles Campaign will help fund culvert removal projects on several other trout streams located all over America. These streams are:
Kinne Brook, a tributary to the Westfield River in Massachusetts
Coyner Springs, a tributary to the South River near Waynesboro, Va.
Crazy Creek, a tributary to the Crooked River in the Upper Deshutes River drainage in Oregon
Aldrich Brook, a tributary to Azizchos Lake and the Magalloway River in Maine
Yellow Creek, a tributary to the Bear River in southwest Wyoming
Big Slough Creek, a Driftless Areas stream in Jackson County, Wisc.
"Culverts are significant impediments to fish passage and survival — just as significant as a major dam — but the solution is dramatically simpler, costs less, and the overall benefits to many watersheds is profound," said Dave Perkins, Vice Chairman of Orvis. "By removing these impediments, we not only add vital habitat for fish, but we also open many miles of fishable waters for anglers. We're proud to partner with TU in this effort to engage the fly-fishing community in support of this often overlooked opportunity to dramatically improve fish habitat across the country."