Great day down on the Mill River Saturday, Oct. 6. We started at 8:30 a.m., finished up around 12:30 p.m. and had perfect weather for planting.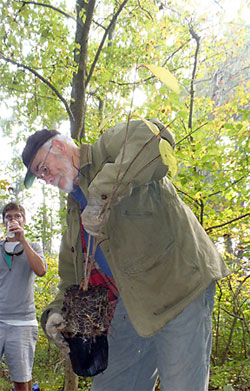 Roughly 15 folks attended, evenly split between volunteers from TU and ALT. From TU, we had myself, Ron Merly, Bob Campbell, Alan Boyd, Rich Rosen, David Winkelmann, Nick Campofranco and John Kovach. From ALT we had Bob Fatherly, Tom Johnson, Wendy Macbeth, Donna Naser, and Stuart Richardson. (My apologies if I neglected to mention anyone.)
Dave Anderson from New England Wetland Plants was also there. He supplied all of the plants and volunteered his time to help with the planting.
We started the day by splitting into two groups, one for invasive removal and one for planting.  As the day progressed it became all hands on deck for planting. We planted 450 trees, shrubs and plants!
Notable species include (common names): Tulip poplar, sycamore, witch hazel, hornbeam, red-osier dogwood, gray dogwood, silky dogwood, arrowwood viburnum, swamp rose, buttonbush and several species of willow.
Additionally, we were able to preserve several pre-existing American beech, sassafras, black birch and spice bush saplings that would have likely been overcome by all of the invasives.
The area looks great, albeit a little barren, but I fully expect it will start to fill out come spring as many of the species begin to take root and expand their profile. Visitors to the area will note a large amount of deer fencing erected around the perimeter of the main
planting area. This is designed to limit both human and wildlife traffic and hopefully give the plantings an optimal chance for survival.
Going forward we will need to monitor the progress of the plantings and continue to work on the invasive removal. One obvious thing was that the wild grape, multi-flora rose and Japanese barberry continue to remain heavily rooted in the area and several plants had bounced back from our May removal efforts. We will probably need to get a small group out there again in the spring to keep it clean.
Feedback on the project and the results are appreciated. I hope this is the first of many steps in our Mill River Improvement Project.
Many thanks to all those who participated and I look forward to working with everyone again on the next event.
Orvis and Trout Unlimited have announced the first two streams that will be improved to allow better passage for wild and native trout as part of the new Orvis / Trout Unlimited "1,000 Miles Campaign."
Murphy Brook in Vermont and Tabor Brook in New Hampshire—both tributaries of the Connecticut River system—will be the first beneficiaries of funding raised by Orvis and its customers, and TU will oversee construction and reconnection projects on both streams. Migration-halting culverts will be replaced, and dozens of new miles of habitat will be available to brook trout and brown trout that need intact coldwater habitat to spawn and to escape the worst of summer's heat.
Thanks in part to an Orvis grant and matching funds from the company's customers, the two entities hope to open up 1,000 miles of new coldwater habitat to trout and salmon all over America. Many streams with spawning and rearing potential—and fishing potential—are now blocked by faulty culverts and other man-made barriers. The campaign's goals include not only increasing overall trout habitat from coast to coast, but improving fishing opportunity resulting from stream improvements.
"Opening up 1,000 miles of new habitat for trout and salmon over the next 10 years is an ambitious goal, but we think we can do it," said Elizabeth Maclin, TU's vice president for eastern conservation. "We're lucky to have dedicated partners like the people at Orvis—they've always been very supportive of the work we do, and their commitment to this project means the world to us."
By opening up habitat in Murphy Brook and Tabor Brook to migrating fish, anglers will likely see improved fish numbers in downstream stretches of water, and enjoy more fishable water in the coming years. Two culverts will be replaced on Tabor Brook this fall, and work to remove a culvert that blocks upstream migration on Murphy Brook will begin later in the year.
The 1,000 Miles Campaign will help fund culvert removal projects on several other trout streams located all over America. These streams are:
Kinne Brook, a tributary to the Westfield River in Massachusetts
Coyner Springs, a tributary to the South River near Waynesboro, Va.
Crazy Creek, a tributary to the Crooked River in the Upper Deshutes River drainage in Oregon
Aldrich Brook, a tributary to Azizchos Lake and the Magalloway River in Maine
Yellow Creek, a tributary to the Bear River in southwest Wyoming
Big Slough Creek, a Driftless Areas stream in Jackson County, Wisc.
"Culverts are significant impediments to fish passage and survival — just as significant as a major dam — but the solution is dramatically simpler, costs less, and the overall benefits to many watersheds is profound," said Dave Perkins, Vice Chairman of Orvis. "By removing these impediments, we not only add vital habitat for fish, but we also open many miles of fishable waters for anglers. We're proud to partner with TU in this effort to engage the fly-fishing community in support of this often overlooked opportunity to dramatically improve fish habitat across the country."
By Ron Merly
Our multi-stream clean-up was a great success thanks to outside members of the chapter.
Ross Ogden was the point person on the Mill and reported that only Ross, Bill Field and Dave Budds showed up on the Mill River. They worked hard for the three hours and removed a lot of trash.
Gian Morresi reported that he was the only member at the Saugatuck River. Three non-members showed up to help him at Devil's Den and then they went to the fly-area on Ford Rd. to finish up.
Chuck Macmath was at the Pequonnock. He is on our Board of Directors as well as being a Boy Scout leader. He was able to get thirty scouts and twelve parents at the Pequonnock to remove an entire pick-up truck full of trash from the northern end of Beardsley Park beneath Rte. 8. Local fishermen also put their rods down and helped out with the clean-up. Only 2 chapter members were present.
On the Far Mill River in Shelton, chapter member and point person David Edgeworth reported that 15 people came out and they made a big difference on that stream, removing many bags of trash. Only David and our Treasurer Alan Boyd were members of the chapter out of those 15 volunteers.
It gets more and more difficult for me to donate over 20 hours of my time each week to an organization that has no interest in involvement. Paying your yearly dues goes to the National organization and does not benefit Nutmeg in any way, shape or form. Nutmeg needs volunteers. Was I asking too much for three hours of the memberships time to clean our local streams?
There are members who religiously attend our monthly meetings and benefit from the knowledge of a free speaker as well as eating free pizza (both of which the chapter has to pay for) but those same members never show up for our events. In case you are unaware, this is a VOLUNTEER organization and we don't ask for much.
When most people join  T.U., they do so with the idea of making improvements on our local streams. How can we do this when only the Board of Directors and a handful of members are the only ones involved ? The BOD constantly has their hands full just trying to keep the chapter running. I am stepping down as President of the chapter this year after three years and out of 370 members, there is no one willing to take this position on. How sad is that?
I would like to gratefully thank all of the members and non-members who came out to make a big difference on our local streams. Clean, healthy water is what T.U. is all about and our local streams are better places thanks to you.
From the Connecticut DEEP
Your help is needed to prevent the spread of didymo (Didymosphenia geminata). This highly invasive freshwater form of algae (also called "rock snot") has now been found in popular trout streams located in a number of northeastern states (New Hampshire, Vermont, New York, Pennsylvania, Maryland, West Virginia and Virginia).
Didymo has the potential to alter food webs and degrade habitat in many Connecticut trout streams.
Didymo is typically found in shallow streams with rocky substrate.
Thought to be native to northern regions of Europe, Asia and North America, didymo originally was found only in cold, clear, low-nutrient waters. Didymo's geographical and ecological ranges have been expanding, and now also include warmer and more nutrient-rich waters.
The occurrence and intensity of blooms are also increasing. It is currently unclear why.
The microscopic didymo cell produces a stalk to attach to the substrate. During blooms, didymo can produce large amounts of this stalk material, forming thick mats of cottony material that feels like wet wool on the bottoms of rivers and streams. These mats can potentially smother aquatic plants, mollusks, destroy invertebrate and fish habitat, and impact existing food webs.
Anglers are considered an important vector responsible for the recent spread of didymo. The microscopic cells can cling to fishing gear, waders (felt soles can be especially problematic), boots and boats, and remain viable for months under even slightly moist conditions.
What you can do to prevent the spread of didymo:
• CHECK: Before leaving a river, stream or lake, remove all obvious clumps of algae and plant material from fishing gear, waders, clothing and footwear, canoes and kayaks, and anything else that has been in the water and look for hidden clumps. Leave them at the site. If you find any later; treat and dispose of all material in the trash.
• CLEAN: Soak/spray & scrub boats and all other "hard" items for at least one minute in either very hot (140°F) water, a 2% bleach solution, or a 5% dishwashing detergent solution. Absorbent materials such as clothing and felt soles on waders should be soaked for at least 40 minutes in very hot water (140°F), or 30 minutes in hot water (115°F) with 5% dishwashing detergent. Freezing solid will also kill didymo.
• DRY: Drying will also kill didymo, but items must remain completely dry (inside and out) for at least 48 hours.
For more information on didymo:
• US EPA Region 8 website: http://www.epa.gov/region8/water/didymosphenia.
• Biosecurity New Zealand website: http://www.biosecurity.govt.nz/didymo