From March 1 to May 31, Trout Unlimited is reviving the offer to sign up women as new members at no cost. In addition, women renew for half price, at a special $17.50 rate, and the recruiting chapter will receive $15 of that $17.50 in the form of a special rebate.
Women interested in becoming new members of TU should click here.
Women who are currently members of TU who wish to renew should click here.
National TU is placing a special emphasis on the renewals since our goals include both adding more women to our ranks and engaging more women in TU's leadership.
Trout Unlimited is alerting members across the country to a scam.
A company called Platinum Publishing sent renewal invoices for TROUT magazine for $79.95 to some of TU members.
"Please be advised that this is a scam and did not originate from TU's offices," according to an alert in the most recent Lines and Leaders.
Members are advised to not respond to these invoices, "but rest assured tu.org and our Woolly Bugger, WV, post office box are fully operational, secure and ready to process dues and gifts."
Trout Unlimited is offering a free introductory membership for female anglers.
For the next year, women who join will receive all the benefits of a paid membership:
•            1-year subscription to TROUT magazine
•            16-month TU calendar (mailed in the fall)
•            official TU membership card
•            car rental & hotel discounts
•            TU decal
•            Local chapter membership
And another, less tangible benefit: the pleasure of knowing you're part of a growing community of women who enjoy angling and want to keep America's rivers cold, clean and fishable.
This offer is available to new members only. Not applicable for existing members.
Click here to join.
Great day down on the Mill River Saturday, Oct. 6. We started at 8:30 a.m., finished up around 12:30 p.m. and had perfect weather for planting.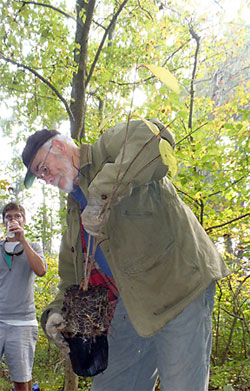 Roughly 15 folks attended, evenly split between volunteers from TU and ALT. From TU, we had myself, Ron Merly, Bob Campbell, Alan Boyd, Rich Rosen, David Winkelmann, Nick Campofranco and John Kovach. From ALT we had Bob Fatherly, Tom Johnson, Wendy Macbeth, Donna Naser, and Stuart Richardson. (My apologies if I neglected to mention anyone.)
Dave Anderson from New England Wetland Plants was also there. He supplied all of the plants and volunteered his time to help with the planting.
We started the day by splitting into two groups, one for invasive removal and one for planting.  As the day progressed it became all hands on deck for planting. We planted 450 trees, shrubs and plants!
Notable species include (common names): Tulip poplar, sycamore, witch hazel, hornbeam, red-osier dogwood, gray dogwood, silky dogwood, arrowwood viburnum, swamp rose, buttonbush and several species of willow.
Additionally, we were able to preserve several pre-existing American beech, sassafras, black birch and spice bush saplings that would have likely been overcome by all of the invasives.
The area looks great, albeit a little barren, but I fully expect it will start to fill out come spring as many of the species begin to take root and expand their profile. Visitors to the area will note a large amount of deer fencing erected around the perimeter of the main
planting area. This is designed to limit both human and wildlife traffic and hopefully give the plantings an optimal chance for survival.
Going forward we will need to monitor the progress of the plantings and continue to work on the invasive removal. One obvious thing was that the wild grape, multi-flora rose and Japanese barberry continue to remain heavily rooted in the area and several plants had bounced back from our May removal efforts. We will probably need to get a small group out there again in the spring to keep it clean.
Feedback on the project and the results are appreciated. I hope this is the first of many steps in our Mill River Improvement Project.
Many thanks to all those who participated and I look forward to working with everyone again on the next event.